Escape mechanisms in Argent X accounts with Argent Shield are flows that allow one of the two parties (User and Argent) to kick out the other party in case they're not cooperating.
In practice, they can be used to recover an account for which the user has lost the seedphrase, or to remove argent shield in an emergency situation if argent's servers are not responding.
In case a user loses their seed phrase, they can contact Argent to start a Key Recovery mechanism, and after 7 days user will regain control of their account.
If the user in the meantime finds their seedphrase and logs into Argent X they will see this screen: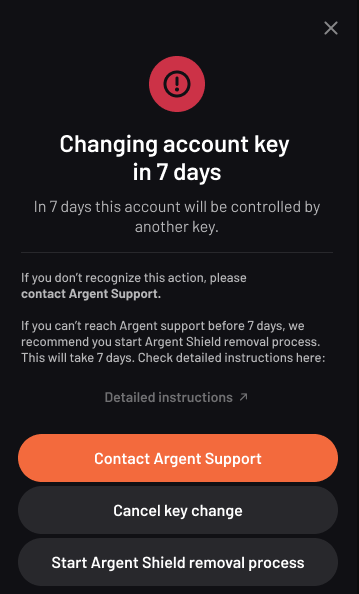 In this case it is recommended to cancel the recovery mechanism, since the seedphrase is in argent X and there's no need for recovery anymore.
Change Guardian: escapeGuardian mechanism
This mechanism changes or removes the guardian of your account.
The most likely scenario when this can happen is if your seedphrase has been compromised.
An attacker, in order to gain control of your account will first need to remove Argent Shield via the escape mechanism, which takes 7 days but doesn't require access to the user's email.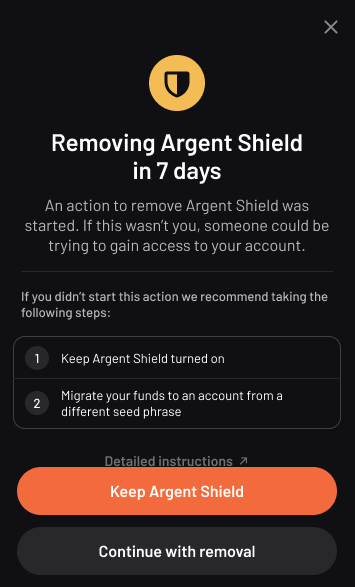 If you don't recognize this action, it is recommended that you contact Argent Support for guidance. We will then ask you to cancel the escapeGuardian mechanism from your Argent X wallet, and transfer your funds to a new account from a new seedphrase
In extreme cases, this mechanism can be started by a legitimate user if Argent's servers are not responding.